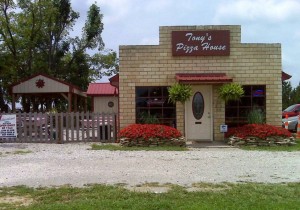 by Sam Clanton
SPRINGFIELD, Mo. – The owner of Tony's Pizza House in Protem is indicted by a federal grand jury for tax evasion and Social Security fraud.
Sixty-two-year-old Tony Cowden of Protem is charged in a six-count indictment, alleging he engaged in a scheme to conceal taxable income from April 2008 to January 2015.
Prosecutors say Cowden did not deposit all of the proceeds of the restaurant's cash sales into his business checking account, and did not report substantial income to the IRS, resulting in a tax loss of more than 80-thousand dollars.
Additionally, Cowden is accused of concealing his work activity from the Social Security Administration by reporting all income from the business under his wife's name and Social Security number – enabling him to falsely claim disability benefits for himself and auxiliary benefits for his three minor children.
This resulted in the government incurring a loss of more than 70-thousand dollars, according to the indictment.
Cowden made his initial court appearance on Wednesday.