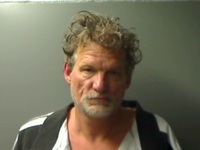 by Shannon Cay
FLIPPIN, Ark. – A man from Peel, Arkansas is sentenced to 17 years behind bars after making a plea deal in court this week.
Judge John Putman handed down the sentence to 56-year-old Michael Todd, who was accused of sexually abusing a 10-year-old girl on multiple occasions in 2016. Todd pleaded no contest and was found guilty of a lesser charge of second-degree sexual assault.
In a separately filed case, he pleaded guilty to possession of methamphetamine with the intent to deliver, of drug paraphernalia and being a felon in possession of a firearm of which his sentence will run concurrently.
According to the police affidavit from July 2016, the young girl was taken to Grandma's House in Harrison by her relatives, where she participated in a taped interview with a specialist from the Crimes Against Children Division.
Todd was then arrested during a traffic stop, on a warrant stemming from the rape allegations. However, investigators say they also found meth, Oxycodone, cash, and a gun in his vehicle.
Later, Investigators say they executed a search warrant at Todd's home and found 85-thousand dollars' worth of meth, along with marijuana, prescription pills, hallucinogenic mushrooms, and more guns, as well as cash.
Originally, Todd faced Todd faces 9 felony charges and a single misdemeanor.