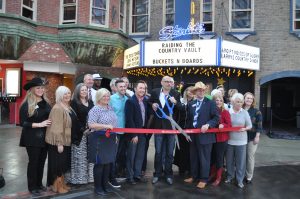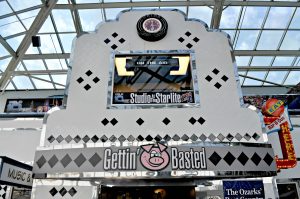 by Tim Church
BRANSON, Mo. – Branson media conglomerate Earls Family Broadcasting officially announces its new partnerships with both The Starlite Theatre and KOLR 10 on Thursday, during a ribbon cutting ceremony celebrating the opening of the newly renovated Starlite Theatre.
Approximately five months ago, the Starlite proclaimed it would be entering into a multi-lease agreement with Sir Harry Cowell, Producer of both Raiding the Country Vault in Branson and Raiding the Rock Vault in Las Vegas.
Cowell and his team officially took over the Starlite on January 1st, and since that time they have been improving every aspect of the facility:
EFB Chief Operating Officer Greg Slavik shares following the Starlite announcement, he, Pam Critchfield and Cowell came together to create something yet to be done in a theatre in Branson:
Slavik also explains EFB has entered into a content-sharing partnership with KOLR 10, meaning The Vacation Channel will have access to television content produced by KOLR 10 and vice-versa.
Follow the links for more information on Earls Family Broadcasting and the show times and tickets for The Starlite Theatre.