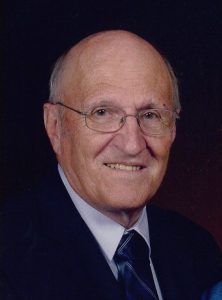 Phillip Alfred Baldwin (Phil) passed to his heavenly reward on August 7, 2017, of natural causes. He was a 26-year resident of Holiday Island, Arkansas. He is survived by Lorraine, his wife of 51 years, and four children: Charlotte Baldwin (Scott Kalberer) of Ames, Iowa; David Baldwin (Linda) of Cedar Rapids, Iowa; Rachel Baldwin York (Jerry) of Manchester, Iowa; and, Daniel Baldwin (Anne Ylvisaker) of Monterey, California. He leaves behind six grandchildren and one great-grandchild. He is also survived by his dog, Sammy, who provided him with wonderful companionship in his last years. Phil was born November 17, 1930, in Keokuk, Iowa. He was the son of R.B. and Alice Baldwin. R.B. died suddenly when Phil was less than a year old, and he was raised by his uncle and aunt, Harry and Jeanette Baldwin. He was predeceased by his four sisters, including his twin, Phyllis. Phil was very active in 4-H as a youngster, and won many ribbons showing his prize sheep. He had a life-long love of the outdoors. He found great enjoyment in fishing, pheasant and duck hunting, and trap and target shooting, winning many marksmanship honors.
Phil enlisted in the Army in 1948, serving two years. He then served in the Army Reserves for 20 years, retiring as a Chief Warrant Officer. He became an excellent machinist, and later progressed into management positions. In 1969, he became general manager of Hide Service Corporation in Manchester, Iowa. In 1979 Phil founded PIECO Incorporated, which, blending his knowledge of machining and the food industry, grew into a successful business. He and Lorraine built a vacation home in Holiday Island in 1987. Upon selling PIECO in 1991, Phil and Lorraine built a home on Rocky Top Circle on Holiday Island, where they lived until shortly before his passing. They enjoyed having family – including summer visits from grandchildren – and friends visit their mountaintop home. In retirement, from 1998 – 2008, Phil worked at the Passion Play in Eureka Springs, where enjoyed greeting visitors to the New Holy Land.
A memorial service will be held at 11 a.m. on August 19 at Faith Bible Church in Holiday Island. Memorial gifts can be made to Faith Bible Church, PO Box 3113, Holiday Island, Arkansas 72631.
Phil's wit and intelligence will be greatly missed by all who knew him.
Cremation arrangements are under the direction of the White Funeral Home and Crematory, Cassville, Missouri.  Please visit www.whitefuneralhome.org for online condolences.