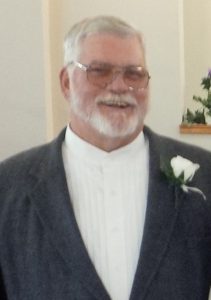 Ricky R. Madison, age 60, of Cassville, Missouri, passed away on Wednesday, August 9, 2017, at Cassville Health Care and Rehab.  Mr. Madison, son of Eugene and Sharon (Weller) Madison, was born on January 24, 1957, in Cassville, Missouri.  He was a 1975 Cassville High School graduate and subsequently business degree from Vatterott College in Springfield.  Mr. Madison never met a stranger and loved to make people laugh; he had several comedian jobs in Branson, Missouri, as well as working at Silver Dollar City as the train conductor and robber.   He was very giving and was always there to lend a helping hand whenever he could.  Mr. Madison had a strong faith in God and was a member of the Mt. Olive Baptist Church in Cassville.  He was known by many and will be greatly missed.
Survivors include his mother, Sharon Thomas, of Cassville; three daughters, Julia Elaine Madison, Victoria Rae Madison, and Rachel Leann Madison; a special friend who he took in as his son, James Wogoman and his fiancé Summer Thompson, of Monett; one grandson on the way to be named Ricky Ray Wogoman; one step-brother; three step-sisters; and several cousins.
Rick was preceded in death by his father, Gene Madison on September 12, 2011, and his sister, Ronda Sue Madison.
Memorial contributions may be made to Mt. Olive Baptist Church or Hospice Compassus in Monett, and entrusted to the White Funeral Home and Crematory, P.O. Box 890, Cassville, MO 65625.
Funeral services will be held at 11:00 a.m. on Saturday, August 12, 2017, at the White Funeral Home and
Crematory with Pastor Kevin Hilton officiating; burial to follow at Oak Ridge Cemetery, Cassville.  The family will receive friends from 10:00 a.m. until service time.
Funeral arrangements are under the direction of the White Funeral Home and Crematory, Cassville, Missouri. Please visit  www.whitefuneralhome.org for online condolences.