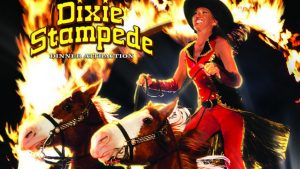 Press Release
BRANSON, Mo. – Dolly Parton's Dixie Stampede and Mercy Hospital are teaming up to show area seniors how much their community cares about them.
Senior Day will take place Thursday, Oct. 19 from 10 a.m. to 2 p.m. which will include a free Health Fair along with an opportunity for guests to experience why Dixie Stampede is the world's most visited dinner attraction.
Senior Day will feature a variety of complimentary health screenings, information for seniors and their families, as well as drawings for free door prizes every 30 minutes. The screenings will include vision, blood pressure and blood sugar. Attendees will also have access to representatives to discuss nutrition and diabetes education, cancer and hematology, home and hospice equipment monitors, as well as cardiac and pulmonary patient scholarships and funding. Additionally, attendees will have access to CPR hands on training, Medicare enrollment, veteran's assistance and outreach, as well as the SilverSneakers premier fitness program.  There will also be guest speaker presentations on orthopedics, security and fraud prevention.
During the main arena spectacular, guests will experience Dixie Stampede's new addition this year, "Canine Capers" rescue dog relay race.
"We've all heard laughter is the best medicine," said Bryan Cossiboom, general manager of Dixie Stampede in Branson. "And we're ready to give seniors a healthy dose of fun. Plus, it's our privilege to work with Mercy to provide important health screenings and services."
The health fair is provided complimentary with purchase of specially priced Dixie Stampede admission, $35.99 (plus tax and tip) for adults and $24.99 for accompanying children (age 4-11).  Tickets are still available for this event. To reserve or for additional information call 417.336.7979.