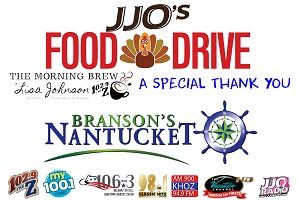 by Shannon Cay
BRANSON, Mo. – Ozark Mountain Media Group is hoping to raise more than 20,000 pounds of food in 10 days benefiting local pantries, starting this Friday at 10 a.m.
102.9 The Z and KHOZ personality Lisa Johnson and online radio DJ Jimmy Olson will sleep, work, and take non-perishable food donations for ten days while living in large storage containers.
In a battle of the sexes and states, Johnson will be camping out in the Walmart parking lot in Harrison, Arkansas, while Olson will be spending his 10 days at the Branson Walmart Supercenter in Branson, Missouri. Both are hoping to be the first to raise ten-thousand pounds of food first.
All of the donations in Arkansas will be taken to The Food Bank of North Central Arkansas and Missouri donations will be given to Ozarks Food Harvest.
This is the inaugural Fall Food Drive for the newly formed Ozark Mountain Media Group and you are invited to see these two radio personalities fair the weather to feed those in need.
 Event Information:
Beginnings: October 13th, 2017
Ends: October 22nd, 2017
Locations: 
(1) Harrison Walmart Supercenter in Harrison, AR
All food will be donated to the Food Bank of North Central Arkansas
(2) Branson Walmart Supercenter on Branson Hills Pkwy in Branson, MO
All food will be donated to the Ozark Food Harvest
How to find us:
Each location will have tents and banners set up for easy visibility.  Lisa Johnson
will be LIVING IN A POD at the Harrison Walmart Supercenter during the Fall Food Drive.
Jimmy Olson will be  LIVING IN A POD at the Branson Walmart Supercenter.
Frequently Asked Questions:
Mission: With the help of our sponsors and the local community, we are going to collect over 10,000 pounds of food, at each location, for the regional food banks.
When can I drop off food? Anytime! Someone will always be there!
Do you take money? Yes! If you would like to donate money instead we will take that and give it to the designated food bank.
What is your goal? 10,000 pounds of food at each location (total of 20,000 pounds)!
For more information call our office at 417-334-1200!